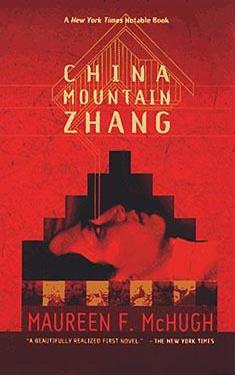 China Mountain Zhang
(1992)
Author:
Maureen F. McHugh
Genre:
Science Fiction, Speculative Fiction
Pages:
324 (trade paperback)
Series:
Stand Alone
(
Summary (from Chapters.ca)
Collapse
)
Read For:
The Women of Science Fiction book club
This month's book club selection didn't intrigue me all that much. I had never heard about it before then (not very surprising -- there are few book club picks that I've previously heard about) and the summary didn't grab my interest. However, I had resolved to read as many book club picks this year as I could, and it's really not all that long *anyway*, so I picked it up and hoped for the best.
It's not my favorite read of the year, but it's by no means a bad novel. I think a large part of the problem is that I'm so under-read in science fiction that I can't appreciate a lot of what's been done here. This review won't be too long, but I'll try to talk about every character's perspective and talk about what I liked, what I didn't like, and what I felt completely indifferent about. Indifferent is a good way to describe how I felt about this novel as a whole actually; I didn't dislike, but it was mostly forgettable for me and there wasn't a whole lot that I *loved*. I don't promise that this review will be spoiler-free, but to be honest, it's kind of a hard book to spoil. Either way, if you're paranoid, just skip to "Final Verdict" at the end of the review.
(
REVIEW: possible spoilers
Collapse
)
Final Verdict:
Overall, this is a good book. As I mentioned at the beginning of my review, I think the fact that I'm under-read in science fiction disallowed me to fully appreciate this book for what it is. It's got great world-building, but unfortunately I couldn't bring myself to really get behind Zhang's character. He's not a BAD character, but I just found him kind of boring, and was never really invested in his personal growth or his quest to find purpose and his place in the world. I did really love the two chapters that involved the characters from Mars, and the last character perspective in the novel was a pretty heart-breaking. Even though I'm not in *love* with this book, I still appreciate it for what it is (very similarly to how I felt about
Ammonite
to be honest, though I liked that one a little more) and whole-heartedly recommend it to fans of science fiction and speculative fiction.
Cover Commentary:
Errr, the dude's face is kinda creepy looking, but the red is very appropriate and I like the font placement.