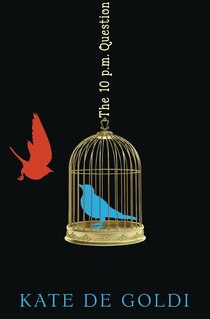 The 10PM Question
(2010 NA / 2009 NZ)
Author:
Kate de Goldi
Genre:
Contemporary Fiction, Young Adult
Pages:
256 (hardcover)
Series:
Stand Alone
(
Summary (from Chapters.ca)
Collapse
)
I picked up this book in September because a lot of my favorite bloggers have read and praised it highly (Nymeth from
Things Mean A Lot
and Ana from
The Book Smugglers
). It just sounded like the kind of book I would like, so when I was ordering some school books in September, I added it to my cart so I could get free shipping (two birds and one stone. :) )
I did wait awhile to read it, but when the 24-hour read-a-thon rolled around, I knew this would be the perfect book. It's length was just right, and it was the perfect excuse to finally read this much anticipated title. I'm so so glad I trusted my instincts and read this book; it's really fantastic.
(
REVIEW
Collapse
)
Final Verdict:
This book is amazing, and definitely one of my favorite reads of the year. It's a beautifully subtle character-driven novel that doesn't slap you in the face with the fact that it's a book about mental illness (and largely avoids being an "issue" book.) The characterization is equally gradual, creating very real characters that I became very attached to. The text itself is very self-aware and it made me take a step back and re-think how I felt about certain characters (one in particular), which really impressed me. I definitely recommend this to anyone who prefers character-driven over plot-driven novels, and someone who likes a quiet, but poignant read.
Cover Commentary:
I absolutely love the cover I own. I love the bold colors of the birds and how they contrast with the black cover. The picture itself is also very representative of the story itself.